Indoor & Outdoor Drapes
Zip.Drape was designed by an experienced interior designer and drapery manufacturer who realized that there was a need in the market for ready made drapes that are easy to assemble and adjust the length. Her clients would ask to remake or shorten their drapes whenever they moved because the drapes no longer fit the new windows. Developing a drapery panel system that would allow you to interchange panels and adjust the length of the drapes took three years in the making. After finding the right fabric, color selection, and flexible nylon zippers, Zip.Drape was created.
The adjustable length curtain
Made from sun and water resistant fabric suitable for indoor windows or outdoor patios and lanais. The ready made drapes are constructed by connecting 50" wide x 24" long panels with flexible nylon zippers that are concealed with a flange creating a contemporary feel.
The Topper panels were designed to be easily hung and have the ability to be configured in several different ways: rod pocket, loop pleat, rings with drapery hooks, and grommet headings. The Extension panels are easily zipped to the Topper and to each other allowing you to adjust the length of your drapes in 24" increments.
With interchangeable color panels and a variety of header options, Zip.Drape is a quick and creative way to update your room or patio decor. Change out a few panels to give your room a fresh look or color block for the seasons. Visit our Photo Gallery for inspiration and ideas.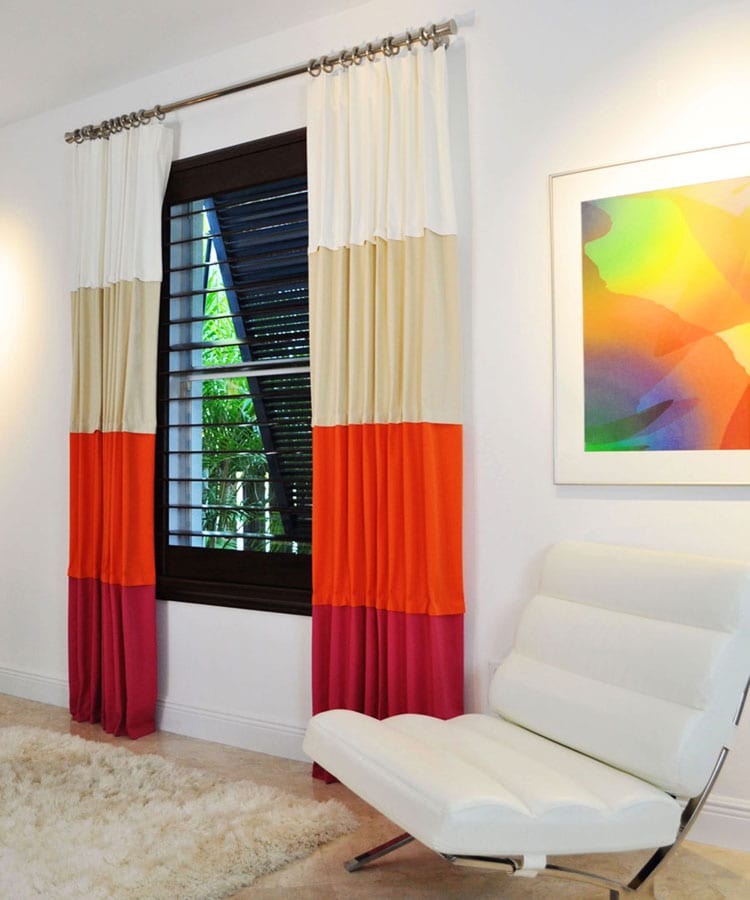 Our step-by-step online order form will walk you through the selection of your topper, extensions and colors.
Zip.Drape® Header Options
Our Zip.Drape Toppers are available in two styles that can create 4 different Headers. The versatile Pocket Topper creates 3 different looks: Rod Pocket, Loop Pleat and Pleated with rings. The Pocket Topper has both a rod pocket and loop tape both of which can be used with a round or flat continental rod. The rod pocket creates a pencil pleat while the loop tape creates a ripple effect. You can also create a pleated with rings look using a pleat tacking gun and drapery pins or alligator clips to hang the rings (pins and clips not included in the package). Our Grommet Topper is available in a nickel finish and has a an inside diameter of 1-9/16". Rod shown in photo below is 1-3/16" diameter.