You can make them as long as you want in multiples of 24" L. For example, with 1 Topper + 3 Extensions = 96" overall length.
You would need to purchase one pack of toppers , plus three packs of extensions. The last panel of extensions can easily be reduced in length. You would need to have it a finished length of 13" not 12" ( as 1" hides under the upper flange). Due to the size of the extensions, these are easy to sew on a kitchen table, or your local tailor could shorten them.
Both the the Topper and Extension panels are 50" w x 24" L
There are two (2) sets of panels in each package. So if you order one (1) quantity Toppers, there will be two (2) 50" w x 24" L Toppers in each package. If you order one (1) quantity of Extensions, you will receive two (2) extension panels 50" w x 24" L.
We offer two styles of Toppers, Pocket and Grommet. The Pocket Topper is a multi-function Rod/Loop pocket and flat heading. You can achieve three header styles with the Pocket Topper. The Grommet Topper is available in a nickel finish and has a an inside diameter of 1-9/16". Click here learn more about our Heading options.
The Toppers are available in two colors: White and Cream
Extension panels are available in 12 colors. They are: White, Cream, Navy, Orange, Beige, Magenta, Apple, Aqua, Turquoise, Gray, Black, Lime.
Yes. Your can order all cream or all white
Wash in cold water by hand. Air dry and iron on medium heat.
Panels are made from 100% Acrylic fabric.
Yes, the fabric is outdoor quality.
The white zippers are made from very flexible nylon
They zip together horizontally from right to left and are hidden by a fabric flange back and front.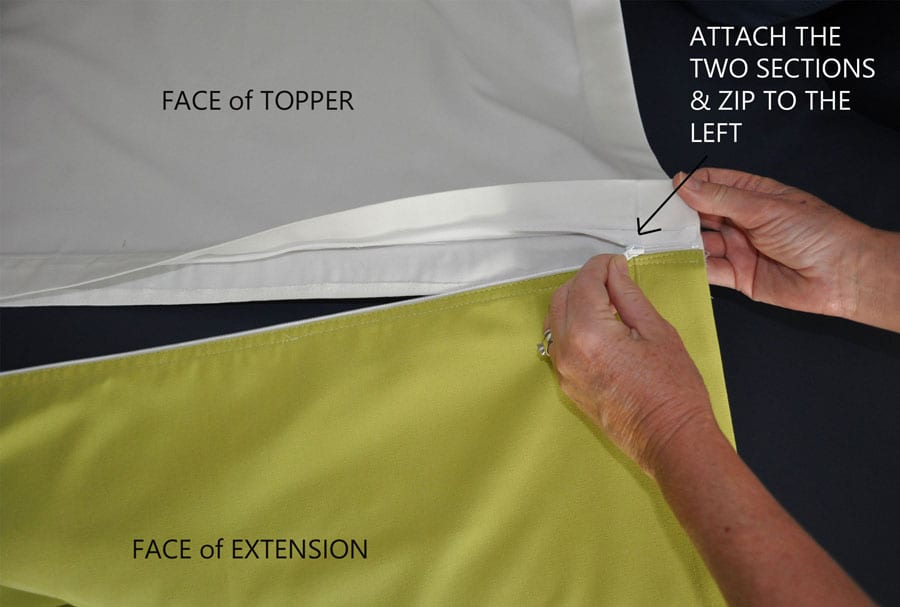 Yes, free swatches are sent by mail. A maximum of five (5) colors may be ordered. Click here to order your samples. Samples will arrive within 2 weeks of ordering.
Unfortunately we only ship to the contiguous United States, the 48 states excluding Alaska, Hawaii and all other off-shore insular areas
Visit our Shop page and select whether you need to order Toppers or Extensions, then select the color you want and add it to the cart.
We accept all major credit cards including Visa, Master Card, and American Express.
If an item isn't the perfect match, return it for a refund within 30 days of delivery in the original condition. To return an item, use our contact form to send us your order number, date of purchase, and reason for return.
Our processing and delivery time takes 3-6 weeks
Yes. We respect your privacy, and know that it is important to you how your information is handled. You can view our privacy policy.
The best way to contact us is by filling out our contact form and clicking submit. Someone will get back to you as soon as possible.